Are you ready to fly - a weekend about mental and physical presence
Our training weekend is not about training – it is about mental and physical presence that leads to change.

Anders Nordström and Markus Torgeby take you on a journey towards total presence. A presence that is far away from every-day decisions and must do's, where tired minds can make sharp decisions and where your feelings are for real. Because, when you peel off your outer shell you reveal your basic needs, and it will be easier to get the right perspective on both training and change.
At Copperhill Mountain Lodge we are very select when it comes to choosing partners, for the benefit of our guests, and it was therefore a given choice to collaborate with Anders Nordström and Markus Torgeby. With their knowledge and experience you will be guided to learn about things and energies you have never before encountered, and you will change – for sure. Our training weekend is not about training – it is about mental and physical presence that leads to change.
For whom is this meant?
This weekend is for you who seek a unique experience, a deeper understanding and a road to change. We combine our finest accommodation, The Villa, with the astonishing nature and two of Sweden's leading accelerators in physical presence and mental awareness, during a weekend with discussions, training and workshops. Maybe you are confronted with an important decision or a big change in life. Maybe you want a deeper understanding of your training habits. Maybe you are a Managing Director, a Chief Human Resources Officer or self-employed. Whatever the reason, this is a great opportunity for personal development in a unique way and in a unique environment. Markus and Anders are your lecturers and coaches that will guide you through a weekend of personal development aiming for physical strength and mental health. They use the body and physical activities so that you can reach your mind and mental abilities.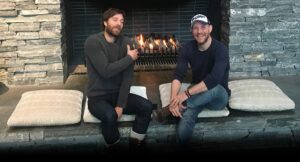 Anders Nordström left his position as Managing Director in the fashion industry to educate, lecture and coach in physical activity and mental change. Anders' goal is to make the inherent normal again, where the human foot is of utmost importance. For more information, click here.
Markus Torgeby is the author of the international best-selling book Löparens hjärta. As a young man, Markus was a promising runner who was predicted a successful future. Now he is the runner who backed off, lived in a Sami hut in the Jämtlandic forest for four years, and came back as a successful lecturer, author, inspirer and family man.
Datum
31 may – 3 june
Price
14950 sek per person
There is only a limited number of reservations. Book directly at the hotel via www.reservations@copperhill.se or +46 (0)647-143 00